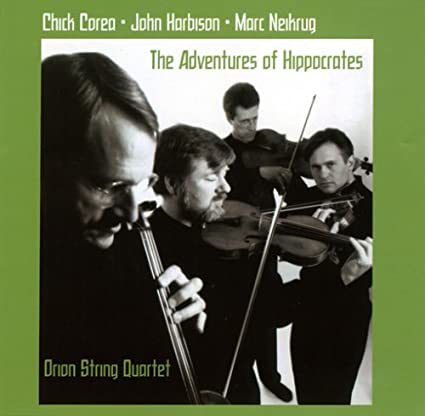 The Adventures of Hippocrates - The Orion String Quartet (CD)
Regular price $29.00 Sale
The Adventures of Hippocrates
The Orion String Quartet (CD)

Only 6 Remain


In 1994, Santa Fe Chamber Music Society and the Orion String quartet approached Chick with a commission. He was impressed by the technical capabilities of the Orion Quartet and by the challenge of the traditional string quartet genre. 
The project resulted in the first composition he ever wrote in which he was not a central performer, his first and only string quartet titled "The Adventures of Hippocrates." The quartet is a suite of five movements, each of which explores a different kind of tempo and rhythmic vehicle harkening to the original meaning of the term "movement" within a multi-part composition.
Excerpt from Kai Christiansen - earsense.org
Editor's note: Adventures of Hippocrates is my personal favorite of Chick's Chamber Music compositions!