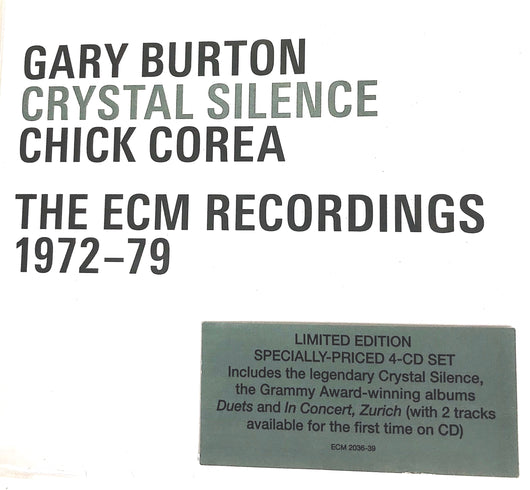 Chick Corea Gary Burton Crystal Silence ECM Recordings 1972-79 (4-CD Box Set)
Regular price $149.00 Sale
Limited Edition 
4-CD Set
Less than a Dozen Remain
Sealed and also includes Chick's Signature Stamp

This limited edition 4-CD box set comprises the monumental recordings Crystal Silence (1972), Duet (1978) and the live double album In Concert, Zürich, October 28, 1979.
The piano/vibraphone duo was a seldom-tested format in jazz when pianist Chick Corea and vibraphonist Gary Burton, at the instigation of Manfred Eicher, came together for Crystal Silence, but its luminous music proved a resounding success.

Both Duet and the Zürich recordings won Grammy awards, and Chick and Gary toured to worldwide acclaim, astonishing audiences with their improvisational fluency.
They continued to make music together and tour for almost 40 years thereafter. Crystal Silence, The ECM Recordings 1972-79 shows how the story began. Two live selections, "I'm Your Pal/Hullo Bolinas" and "Love Castle", appear on CD for the first time in this collection.