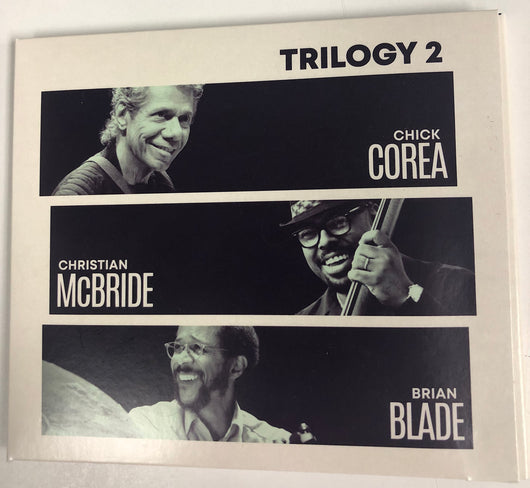 Trilogy 2 (2-CD set)
Regular price $29.00 Sale
Chick Corea, Christian McBride & Brian Blade

The Winner of Two 2021 Grammy Awards! 
- Best Jazz Instrumental Album
- Best Improvised Jazz Solo on "All Blues!"
ONLY 4 REMAIN!
"At 78 Corea sounds as vital as ever and these three are among the very best on their respective instruments. Music doesn't get any better than this. Rethink your approach to jazz piano trio albums!" - Glide Magazine
"Three musicians of substance further engaging in each other's world can lead to beautiful moments of improvisational bliss. They clearly are having fun playing together, and that enjoyment is transferred onto the listener in droves."
- AllAboutJazz

Includes these 12 songs: How Deep Is the Ocean, 500 Miles High, Crepuscule with Nellie, Work, But Beautiful, La Fiesta, Eiderdown, All Blues, Pastime Paradise, Now He Sings, Now He Sobs, Serenity, Lotus Blossom
*INTERNATIONAL SHIPPING NOTE: Unfortunately, during this time period with the Covid Virus, international shipping is at your own risk.
We cannot track packages precisely once they leave the U.S. The estimated time frame is 4 - 6 weeks.
Also, please be sure to check into any regulations or additional fees your country may require prior to placing an order.