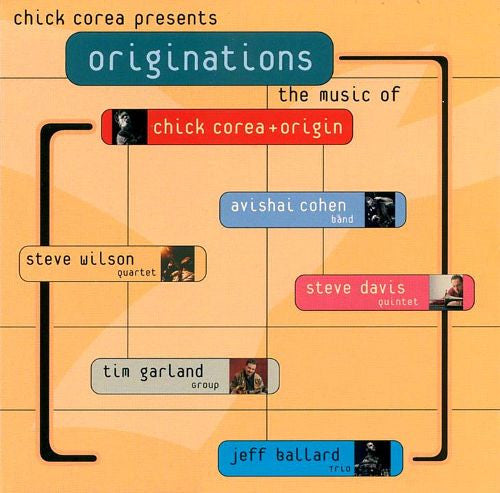 Originations
Regular price $30.00 Sale
An essential part of Chick's life as a musician is his embrace of new voices and musical partners. On Originations, he presents a few of his favorite young compatriots, playing their own compositions and arrangements. Featuring early appearances by young guns who have gone on to shape the modern jazz world: Jeff Ballard, Avishai Cohen, Tim Garland and more.
With top Jazz Artists: Brad Mehldau, Bob Berg. Geoff Keezer and many more!
Tracks:
1 - Wigwam - Chick Corea + Origin
2 - i B 4 U - Avishai Cohen Band
3 - Turnin' the Corner - Steve Wilson Quartet
4 - Shadows - Steve Davis Quintet
5 - Made by Walking - Tim Garland Group
6 - Beat Street - Jeff Ballard Trio
7 - Madrid - Avishai Cohen Band
8 - Roots & Herbs - Steve Wilson Quintet
9 - I'm Old Fashioned - Steve Davis Quintet
10 - Flicks - Tim Garland Group
11 - Psalm - Chick Corea + Origin
*INTERNATIONAL SHIPPING NOTE: Unfortunately, during this time period with the Covid Virus, international shipping is at your own risk.
We cannot track packages precisely once they leave the U.S. The estimated time frame is 4 - 6 weeks.
Also, please be sure to check into any regulations or additional fees your country may require prior to placing an order.