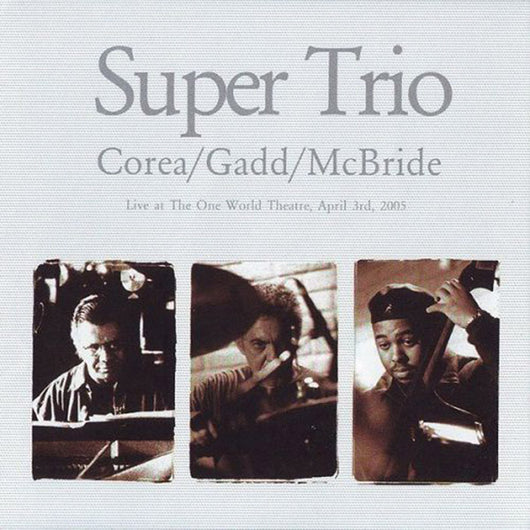 Super Trio (CD)
Regular price $24.95 Sale
SUPER TRIO

Chick Corea • Steve Gadd • Christian McBride
Each of them played jazz, rock, funk, fusion, pop and classical at its best!
These three musical giants (whose collaborators range from Paul McCartney, Eric Clapton and Sting to Billy Joel, Steely Dan, Miles Davis and The Los Angeles Philharmonic) came together for this one tour only to give us this brilliant recording. 
Hear them jam out on Chick's biggest hits: "Humpty Dumpty", "Spain", "Matrix", "Windows" and more.
"A friendly jam session - once through - no editing - real improvisation.
Thanks to Steve and Christian - I'm rich in musical friendship." - Chick Corea
Tracks:
1. Humpty Dumpty
2. The One Step
3. Windows
4. Matrix
5. Quartet #2 Pt.1
6. Sicily
7. Spain
A Chick Corea Webstore Exclusive 
With Chick's Signature Stamp
Super Trio has been out of print for years and
we recently acquired an additional supply!