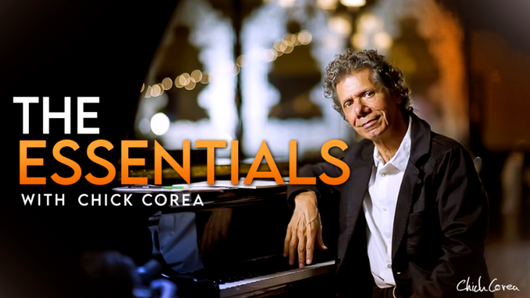 The Essentials with Chick Corea (Digital Workshop)
Regular price $149.00 Sale
Over 8 hours of music mentorship and 40+ individual lessons with Chick on piano and keyboard, Carlitos Del Puerto on bass and Richie Barshay on drums.
Watch and learn at your own pace! Plus, all videos have slow-motion functionality so you won't miss a single detail!
No matter what instrument you play, this comprehensive video series will inspire and enhance your musicianship.
From practice routines and comping, to chord voicings and choosing bandmates, Chick covers everything you need to know. 
Here are a few of the workshop sessions included, all of which include an option for slow-motion playback:
♪ Rehearsing ♪ Theory and Composition ♪ Orchestration & Editing ♪ Sequencing & Demo Recording ♪ Improvisation & Form ♪ Re-harmonizing ♪ Composing & Creativity ♪ Choosing Bandmates ♪ Two-Handed Runs & Scales ♪ Comping with Vocals ♪ Chord Voicings ♪ Creating Scales ♪ Fingering & Touch ♪ Practice for Dexterity. And much, much more!

This workshop also includes a free PDF download of Chick Corea's book, "A Work in Progress", an essential part of the learning process!